ClickServe™ - Servicio a su alcance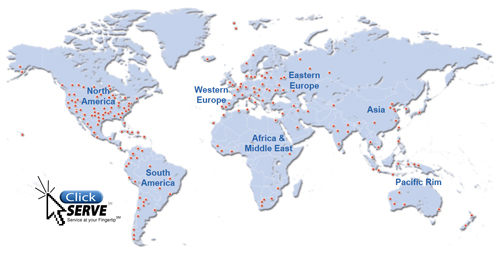 BendPak/Ranger cuenta con una red de distribuidores, revendedores y personal para instalación de servicio autorizado en Estados Unidos, para ayudarle con ensamblaje y apoyo al cliente al comprar los productos BendPak/Ranger ya sea que estén fuera o dentro de la garantía, en pre-venta o post-venta. Para quejas de productos con garantía, por favor contacte a BendPak.

Nuestro localizador ClickServe le ayudará a encontrar centros de instalación y servicio en cualquier lugar de Estados Unidos, Canadá y Puerto Rico. Es fácil de usar y proporciona inmediatamente los datos de contacto del proveedor de servicio autorizado en su área. Un mapa detallado e indicaciones para llegar a la dirección solicitada también se proporcionan, así como la distancia a la ubicación.

Por favor, haga clic en el botón de abajo, entre su código postal para comenzar su búsqueda. Elija una distancia de hasta 100 millas.
SI USTED COMPRA UN PRODUCTO BENDPAK/RANGER DE UN DISTRIBUIDOR NO AUTORIZADO, SU GARANTIA BENDPAK/RANGER NO SERA VALIDA,
así que revise su origen o
contáctenos
. Estaremos contentos de conseguirle un distribuidor autorizado de nuestros productos BendPak Ranger. Obtenga más información acerca de las
garantías por BendPak/Ranger
.
Si usted cree que llegó a esta página por error, por favor haga clic aquí para retornar a la página de origen de BendPak.
---
Disclaimer

This list of participating independent third-party contractors is strictly for your convenience. The decision to select, hire and/or manage any of these independent contractors is the sole responsibility of you--the end-user or customer. These independent third-party contractors are not agents for, not joint venturers of, not employed by, and do not work for BendPak. BendPak does not make and expressly disclaims any warranty, guarantee, or promise, whether expressed or implied, including, without limitation, any implied warranty of merchantability, fitness for a particular purpose, the suitability or quality of work or materials to be used and/or installed by, or the workmanship of the participating independent contractor selected and hired by you--the end-user or customer. All information on these pages is for your general information and use only. They do not constitute any advice or recommendation (professional or otherwise). You should not rely upon any information or materials on these pages in making or refraining from making any specific business decision or other decisions. BendPak does not guarantee the accuracy or validity of the information and materials on these pages. Access to these pages (including the use of any information or materials on them) is entirely at your own risk. BendPak accepts no liability whatsoever. Particularly, BendPak accepts no liability for any direct, indirect, special or other consequential damages of whatever kind (including without limitation, loss of profits, anticipated savings, revenues, data, goodwill or contracts), resulting from whatever cause, through the use of any information or material obtained either directly or indirectly from this site. BendPak reserves the right to make changes and corrections to any part of the content of this site at any time without notice.